At the junction of trails, used daily by tourists and residents walk visiting places of great natural beauty of the island, rises the mountain of La Brena, ancient volcanic cone of pyroclastic potentially formed. This volcanic cone has a height of 565 meters above sea level. It is the only significant elevation of the landscape of mediocrities, who share the cultivated areas and residential areas. Read more
---
CENTRO DE EXPOSICIÓN Y VENTA DE ARTESANÍA "LA CARNICERÍA".
In the renovated building known as "The Butcher" was shipped meat twice a week until the thirties. The property, built in the last century, is located in the suburbs of San Jose and has been conditioned to house the Centre Exhibition and Sale of Traditional Crafts. They wanted to preserve not only the name but also the architectural features of the building. Their modest proportions have not been any impediment to be present a variety of artisans and agri-food products in the municipality. Read more
---
Eighteenth century church is one of the architectural jewels of township. Thick crenellated walls envelop this small architectural gem where time seems to stand still. It was founded by a wealthy landowner and promise for saving life in dangerous circumstances, hence derives its devotion to La Virgen del Socorro. The exquisite carving of the image is preserved in the interior of the building was made by artists and clappers. Read more
---
Architectural Monument, currently in rehab. Your date of constitution dates from 1550. The old church of San José elevates its unique belfry witness a past architecture. Of its original little remains, the original 1637 chapel was enlarged in subsequent centuries and is now declared a Cultural. Read more
---
On the outskirts of San Jose rising majestically several estates built in the past. Important families of fixed capital in land breñuscas summer residences, in the field and they enjoyed the good weather in the area. The house Fierro Torres and Santa Cruz, the eighteenth century (Cultural Property), the house Frias and Van de Walle (the Zumacal) and the house Massieu Van Dalle and Velez of Ontanilla (Mountain) are a clear example. His old damaged walls show us the ways of the period building. Read more
---
Located on the main road to the airport, Km 1.5, near the exit of the tourist area of Los Cancajos and looking towards the airport, offers a spectacular view of the tourist hub of the town, Los Cancajos and all its stretch coastal.
Read more
---
Located in the New Summit Nature Park, at the foot of the Mountain of La Venta, at 1300 m. altitude, is an excellent vantage point from where you can see some of the mountains of the island. Read more
---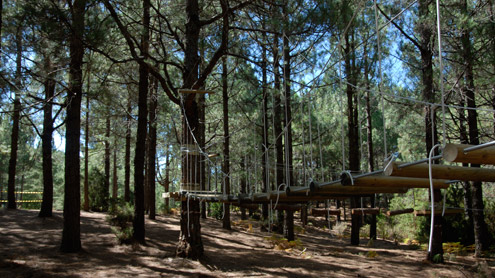 Campsite located in the natural park of Cumbre Vieja, summit county, which features a tent, caravan, car parks, toilets, kitchens, playground, etc..
Read more
---
Brena Baja was the location chosen to locate facilities such high prestige within the range of accommodation such as the Parador hotel. In the natural environment on which sits transitional species are located between the coastal areas and of the middle; plants as emblematic as the lofty palms and dragon trees thrive in these latitudes favored by excellent weather. Read more


---
Located in the coastal walk from the tourist center of Los Cancajos. Built in the eighteenth century, constitute a unique model in the island-inspired ingenuity Roman salt. Read more
---
Where you can enjoy spacious black sand beaches as well as a good range of accommodation, shopping and entertainment. Read more